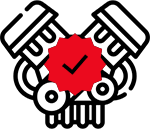 Complimentary Lifetime Engine Warranty
Protect The Heart Of Your Vehicle.
Seriously, There's No Catch. As Long As You Own Your Vehicle, Preston Has You And Your Vehicle's Back. Simply Perform The Maintenance Schedule In Your Owner's Manual At A Preston Dealership.

Complimentary Car Washes For Life.
For Real!
For Real. Have That New Car Look All Year Round With Preston Auto's Free Car Washes For Life. Look Good And Save Time And Money Doing It!
Complimentary PA State Inspections For Life.
It's Mandatory, But The Sticker Is Free With Us.
In Pennsylvania All Vehicles Must Be Inspected To Meet Safety Standards, With The Preston Advantage Your PA State Inspection Sticker Is Complimentary.

Complimentary Oil And Filter Changes.
The First Two Are On Us!
Check, Change, Inspect, Flush, Fill And Clean Your Oil And Filter Twice, All For A Grand Total Of FREE!

Complimentary Service Visit Loaner Cars
We Know Life Happens.
Enjoy Our Fleet Of Courtesy Service Loaners For Any Overnight Or Extended Warranty Repairs. Get Where You Need To Go No Matter What With The Preston Advantage.

New Owner Service And Technology Clinic
Get To Know Us And Your Car Better.
Preston Auto's Expert Team Will Go Over ALL The Technology In Your New Vehicle. We Will Teach You How To Best Maintain Your Vehicle And Introduce You To The Team That Will Be Serving You For Years To Come!